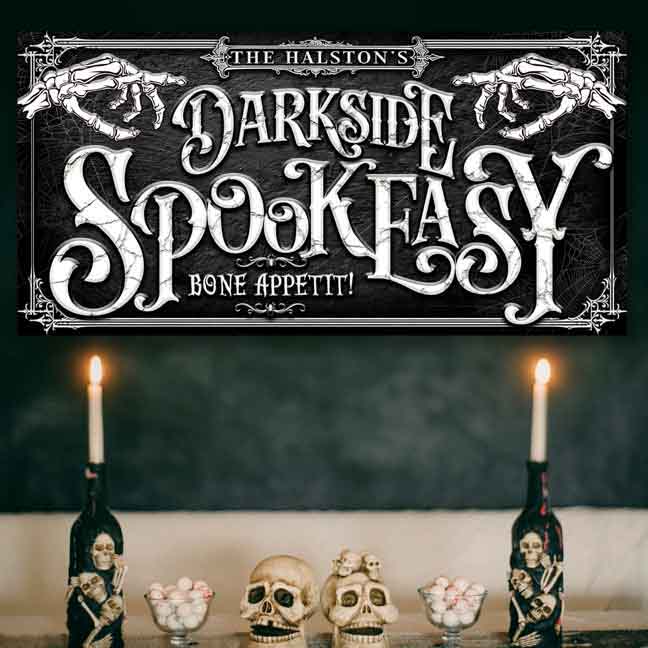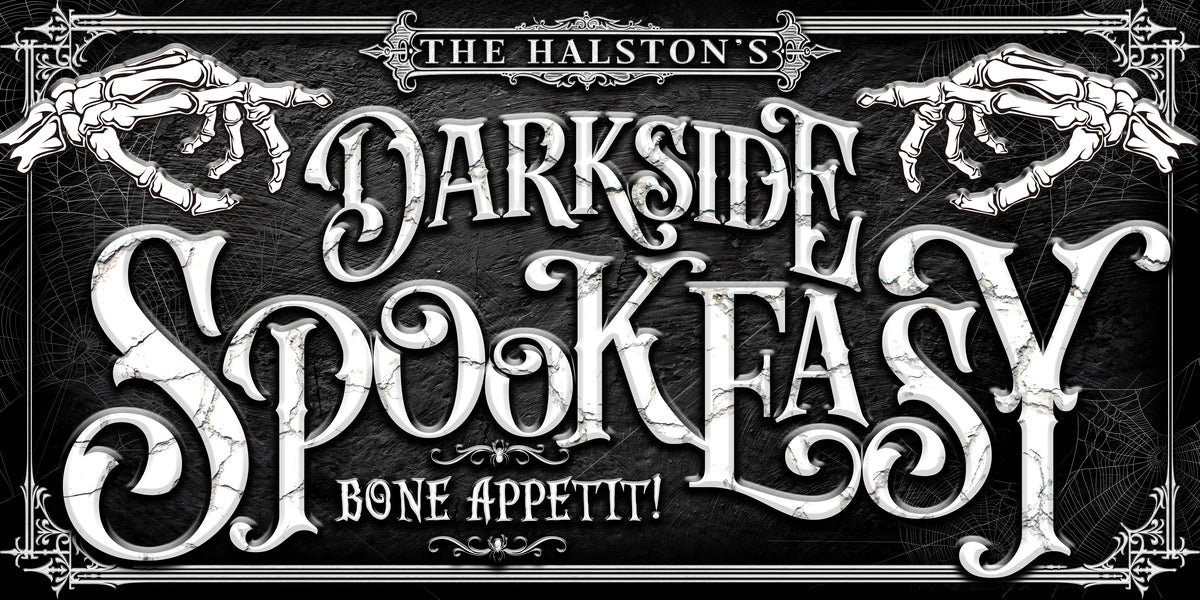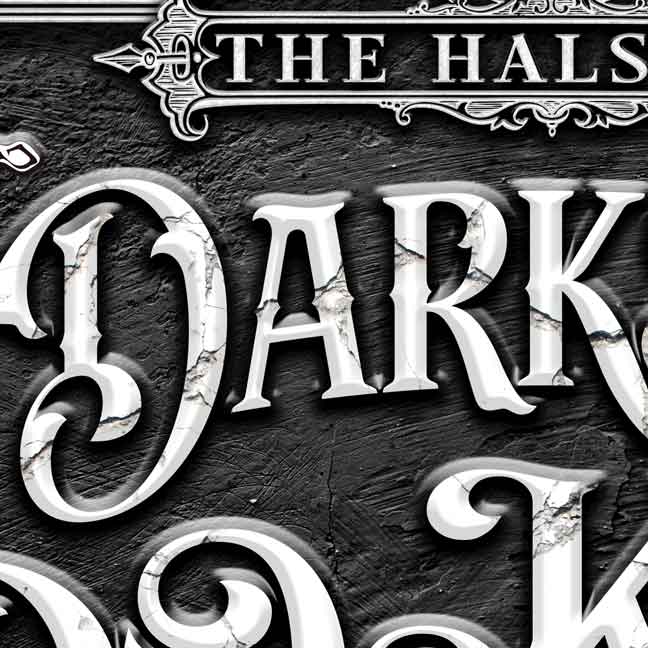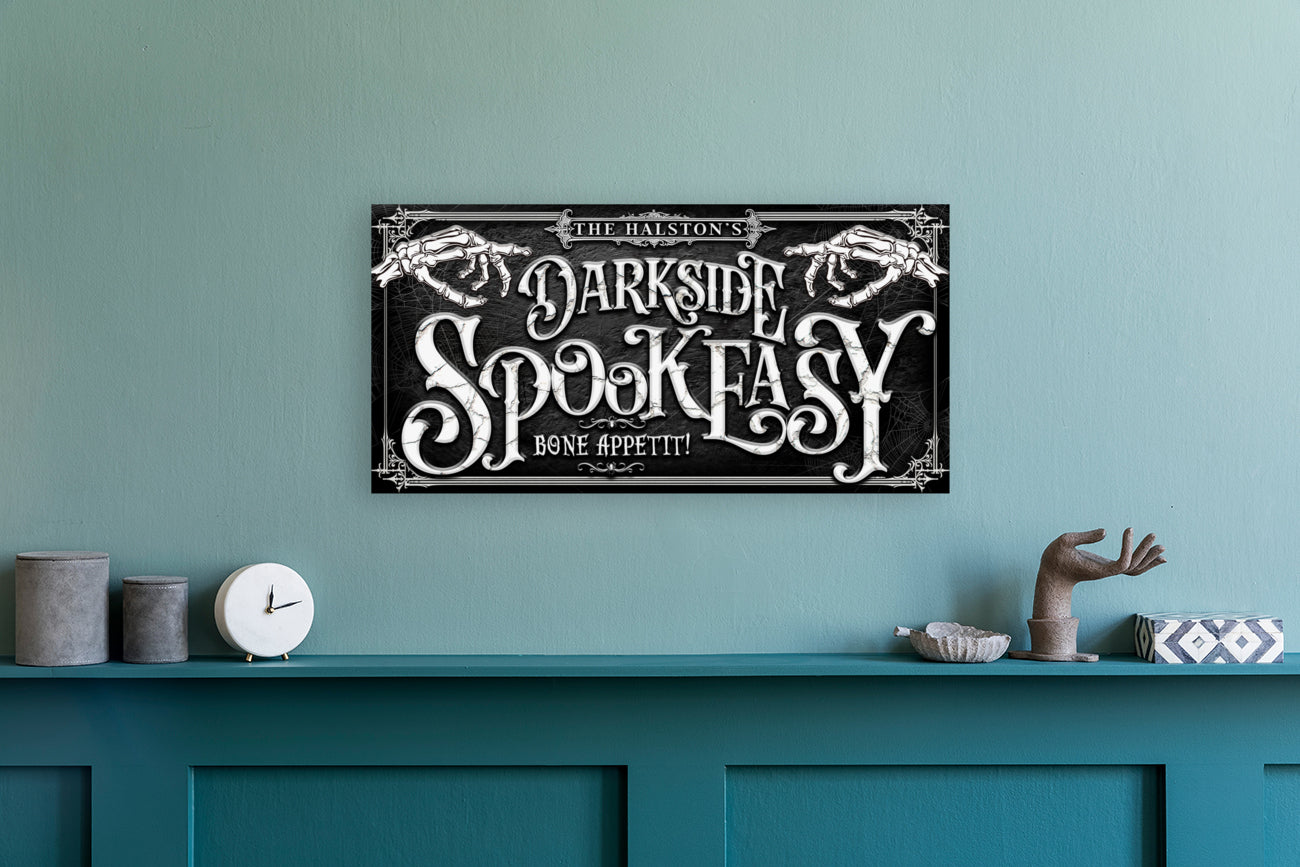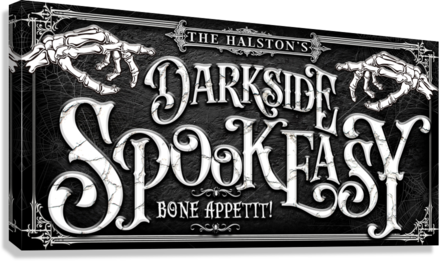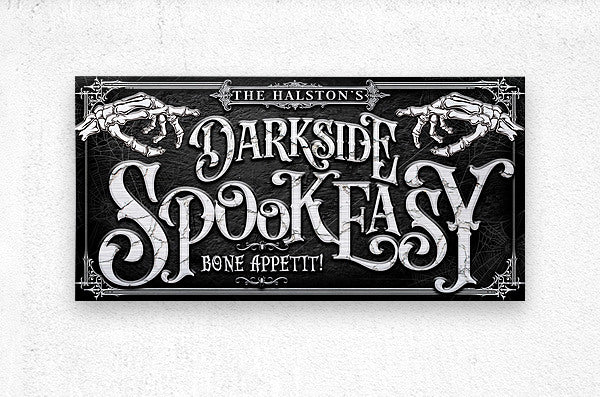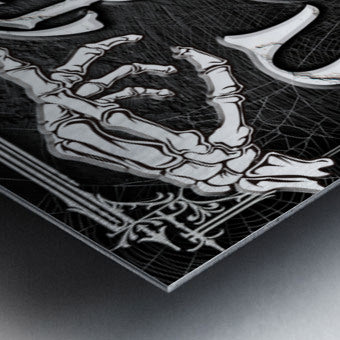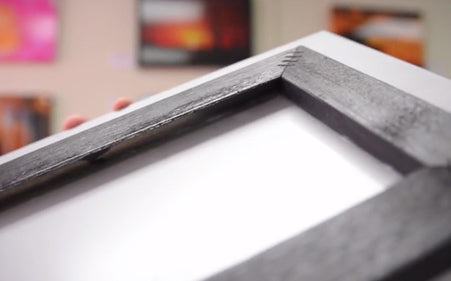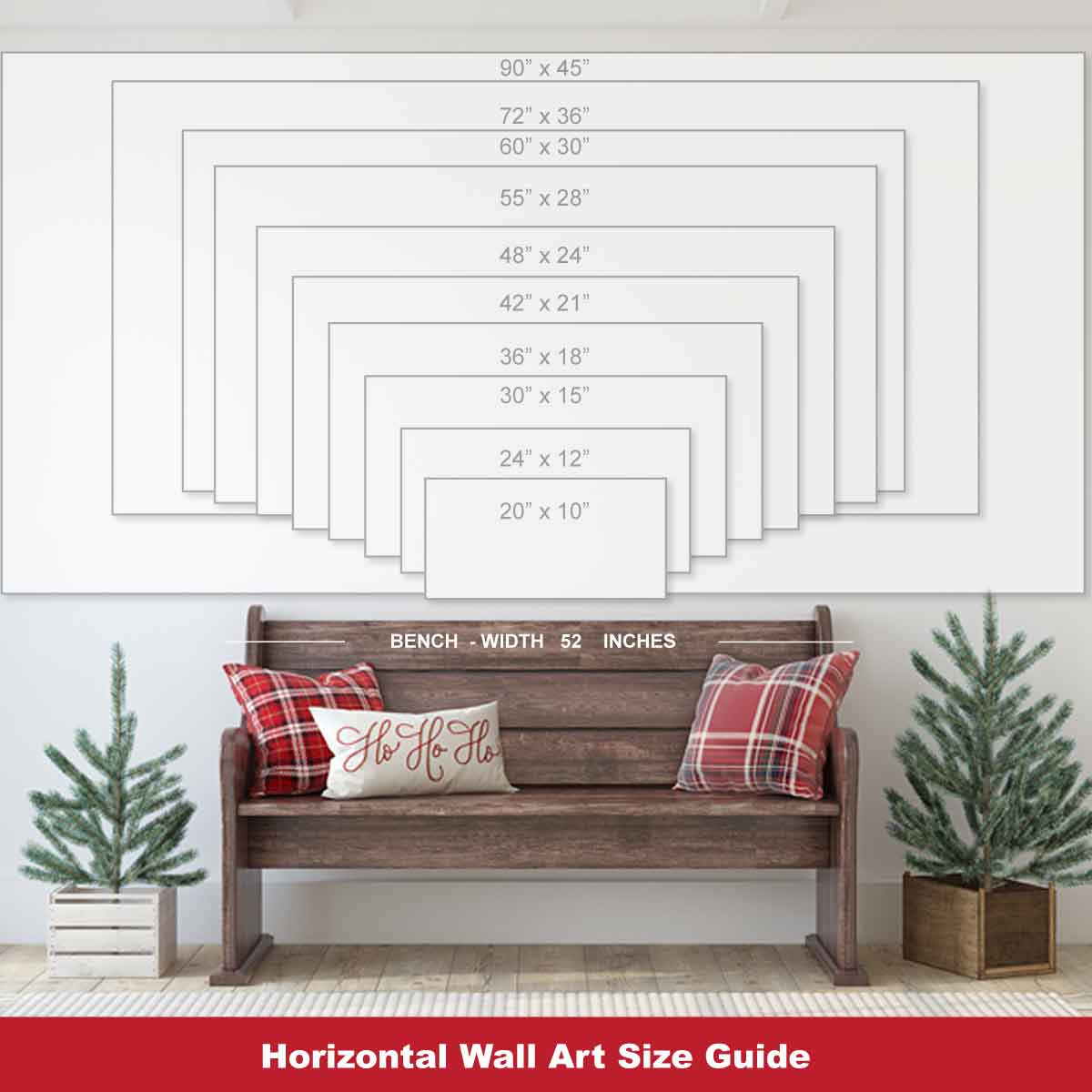 Spookeasy Sign: The Ultimate Scary Skeleton Halloween Wall Decor Sign
---
Description
Turn your outdoor Halloween decor up a notch with this spooky and fun indoor/outdoor spookeasy wall sign! Featuring a bony skeleton hands pointing straight at the words "Darkside Spookeasy", this sign is sure to send chills down the spines of your party guests! With spider webs and a creepy frame surrounding the skeleton, it's the perfect addition to your Halloween bar decor or a spooky speakeasy sign. Whether you're throwing a Halloween party or just looking for an eerie decoration, this sign is sure to impress anyone who loves a good scare. So why wait? Enter the "Darkside Spookeasy" and let the Halloween festivities begin!
Material
SATIN WHITE METAL
Aluminium Composite Sheets
Thickness 6 mm
DIBOND® Product Specs: DIBOND is the original aluminium composite sheet, comprising two 0.3-0.6 thick aluminium cover layers and a polyethylene or mineral core. It is lightweight, extremely rigid and strong, making it ideal for both indoor and outdoor applications.
Built to last – strong & durable
Weatherproof
4-6 Metal Stand-offs included for mounting, 8 for largest signs
CANVAS 
(Not made for outdoors)
Our signs may look like old wood, or rusted metal, in actuality they are canvas.
All canvas prints are wrapped and shipped in fitted packaging
Ready To Hang - Mounting hardware comes attached.
Felt Pads Included - For wall protection.
Semi-Gloss Print - Increased vibrancy of artwork.
Beveled Wood Stretch Bars - Make frame less noticeable on front of canvas.
1.5 Thick Wooden Frame
Industrial Strength Staples - Ensure a tight fit that is sure to last.
ACRYLIC 
1/8 inch thick digital grade Acrylic 
Back Floating Mount or Stand-Offs 1" thick
CUSTOM MADE
Handmade for you after you place the order
Made in the Midwest of the United States
Items ship from USA & Canada
FINE ART PAPER
Our Premium Archival Matte Paper is a smooth, neutral-white, matte paper for high-quality fine art, photo reproduction, and open-edition decor. The paper supports accurate color reproduction and high-contrast, high-resolution output, and is acid-free for a longer print life with pigment inks. It features a heavy weight (230 gsm), thick base (9.5 mil), and an instant-dry coating that resists fingerprints and smudging.
Shipping Details
All our products are custom made just for you!
Production Time: 5 to 7 days
Shipping Time: 1 week
Total Delivery Time: 2-3 Weeks
Your Tracking number will be added to your order as soon as we have it. Generally, in a 2 week window.
Care Instructions
Gently clean your artwork with a soft, damp cloth.
Avoid using household chemical cleaners, as they can damage the artwork.
Do not expose canvas prints & acrylic prints to direct sunlight.
Sustainablity
Print One. Plant One is our Motto at our State of the Art Print Facility in Canada.
Planting one tree for each print
With the help from our friends at Trees for the Future, our donations will plant trees with rural communities in the developing world, enabling them to rest their environment, grow more food, and build a more sustainable future.
Our Print Partner supports Trees for the Future, a 501(c)3 non -profit organization, recognized by 1% for the Planted, that operates an agroforestry program to restore trees to degraded lands by working with smallholder farmers.
All our products are made to order. We carry no stocked items which reduces cost and excess inventory.
Mounting
Stand-Off Sizes/Measurements - 19mm diameter x 25mm long 
OR
Built-in Back Floating Frame ¾-inch
Canvas 
Lightweight and premium grade  1.5" thick wood (gallery)
Wire - Ready to hang
Felt pads for wall protection
410g/m2 Premium artist canvas, producing incredible printing sharpness
Fine Art Print
Custom Made in North America. We proudly make each frame by hand and guarantee a perfect piece. Our frames come ready to hang right out of the box. Pictorem Guarantee the frame to arrive in perfect condition and free of any defect.
Spookeasy Sign: The Ultimate Scary Skeleton Halloween Wall Decor Sign